Democrats most likely will lose Florida, never making up for what they lost with Hillary there, and not stopping to think about how immigrants would feel about the party platform that appears a good deal like the Communist Manifesto, which is scary to people who fled Communism.
Immigrants from Cuba love Trump.
"Unlike other Hispanic registered voters in the United States, most Cuban Americans identify as Republican – a pattern that could have electoral implications as President Donald Trump seeks to recapture the important swing state of Florida this year."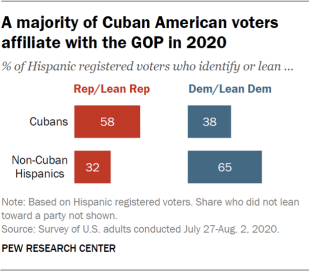 "Nationwide, 58% of Cuban registered voters say they affiliate with or lean toward the Republican Party, while 38% identify with the Democratic Party or lean Democratic, according to a Pew Research Center survey conducted July 27-Aug. 2."
Tristian Justice from The Federal wrote,"Democrats are on track to lose Florida in November, and there's little indication that the Sunshine State will turn reliably blue for the foreseeable future.
As of this writing, RealClearPolitics' latest aggregate of Florida polls shows former Vice President Joe Biden leading President Donald Trump by about two points, well within the margin of error for most polls. This time four years ago, former Secretary of State Hillary Clinton was up by three points and still lost the state's 29 critical Electoral College votes, helping land Trump in the White House.
Today, Biden is slipping in this key battleground state primarily among Hispanics, a once-crucial building block of the Democrat coalition that's now trending toward the GOP. For the increasingly leftist party of Sens. Bernie Sanders, Elizabeth Warren, and Rep. Alexandria Ocasio-Cortez, this slippage in Florida represents a long-term problem."
That is because the Democrats failed to embrace the idea that people who have fled socialism and communism do not actually like Socialism and Communism.
Democrats tend to hate America so much, they don't take the time to understand why people love America and now the loss of Hispanic and Black voters is a disaster for the Democrats.
Justice wrote, "For many of Florida's Hispanic voters, the Democratic Party's enthusiastic embrace of radical socialist reforms recalls the oppressive socialist regimes they or family members fled to come to the United States. Democratic pledges of free health care, free college, and the radical expansion of the welfare state, together with draconian lockdowns in the name of public safety, have been met with well-founded skepticism among voters who have already lived through communist experiments in Latin America.
It's an experience Trump and Republicans have successfully tapped into, routinely condemning the communist regimes of Latin America while suggesting the radical agenda of the Democratic Party will lead the United States down the same dark path. That message has resonated with South Florida voters increasingly anxious over a second-wave experience.
"Trump represents individual freedoms, property freedoms, constitutional freedoms," said Adrian Castano, a 21-year-old insurance broker in Miami who saw first-hand the horrors of Fidel Castro's regime while living in Cuba until the age of 12. "I grew up in a country where people are suppressed, people are thrown under the bus, people are thrown in jail because they believe in freedom."
And yet the Democrats, many of them native to American and lifelong Citizens simply do not understand America, nor are they interested in learning what other people see.
As of 2018, the U.S. was home to 1.4 million Cuban eligible voters – defined as adult U.S. citizens – according to a Center analysis of U.S. Census Bureau data. Most (55%) were naturalized citizens who were born outside the U.S., and 65% lived in Florida. In 2018, Cubans (29%) and Puerto Ricans (27%) accounted for the largest Hispanic eligible voter populations in Florida, reflecting a Hispanic electorate in the state that has grown more diverse over the decades. The Cuban share was down from 49% in 1980.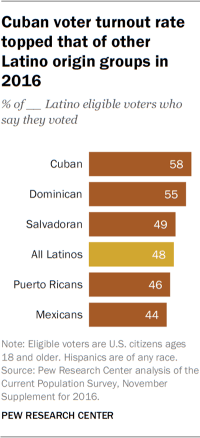 Cubans in Florida have helped make the state's Latino vote different from that of the nation overall. In 2016, 54% of Cubans in Florida voted for Donald Trump, compared with 35% of the state's Latino voters overall and 28% of Latinos nationwide, according to exit polls. (A Pew Research Center study of the 2016 electorate based on validated voters found similar voting patterns among Latinos nationwide.)
So get ready to hear that "Donald J. Trump has won Florida". An important battleground state.